After signing Kevin Durant and Kyrie Irving as free agents in 2019, the Nets had to wait a year to really see their two stars in action, as Durant spent the season rehabbing an Achilles tear and Irving was limited to 20 games due to a shoulder injury.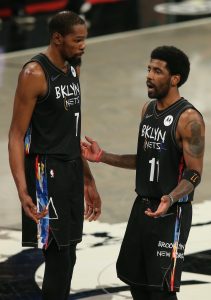 The wait was worth it. Durant and Irving looked like their old selves in 2020/21, and adding James Harden to the mix in January helped turned the Nets' offense into one of the NBA's all-time best (the team established a new record for offensive rating).
Unfortunately, the injury bug that turned '19/20 into a lost season reared its head again a year later. Spencer Dinwiddie missed nearly the entire season, Durant was out for 37 regular season games, Harden was sidelined for 23, and Irving was on the shelf for 18 due to various ailments. Brooklyn still finished second in the East and the team's Big Three was healthy at the right time heading into the playoffs, but that didn't last long — Harden (hamstring) and Irving (knee) missed three games apiece in the team's crucial second-round series vs. the Bucks.
A Nets team at less than full strength put up a valiant effort against Milwaukee, but suffered an overtime loss in Game 7, then watched as the Bucks won two more series to earn the 2021 title.
With better injury luck, it could be the Nets – not the Bucks – celebrating a championship today. But Brooklyn can't simply assume its luck will be better in 2022. The club will have to do what it can, with limited resources, to continue building a championship roster capable of withstanding an injury to one of its stars.
---
The Nets' Offseason Plan:
Durant, Irving, and Harden are all under contract for the 2021/22 season, so there's no urgency to address their contract situations right away. However, the Nets will surely be motivated to enter into extension talks with their stars, since all three of them have the ability to opt out in 2022.
The cost of those extensions would be absolutely massive. As Bobby Marks of ESPN details, a four-year extension for Irving would average more than $45MM per year, and it would actually be the least expensive of the three — Durant's four-year extension would come in just shy of $50MM per year, while Harden's three-year extension would be worth over $53MM annually.
Given the three stars' respective injury histories and their ages (Irving, the youngest of the three, turns 30 next March), Brooklyn may try to negotiate some protections into the later years of those extensions, but the team risks creating unnecessary drama if it drives too hard a bargain. For instance, if the Nets were to extend one of the three stars and balked at the asking prices for the other two, that situation would hang over the team entering next season.
With those three players practically putting the Nets into tax territory on their own, the club will have to make a concerted effort to get the most of its investments elsewhere on its roster. A minimum salary for Nicolas Claxton? Great, he's likely not going anywhere. A $10MM salary for DeAndre Jordan? That's less team-friendly, and could be a contract the Nets try to move this offseason.
The club's key free agents are Dinwiddie, Bruce Brown, Jeff Green, and Blake Griffin. A healthy Dinwiddie would be a terrific third guard and insurance policy behind Harden and Irving, but I'd be surprised if he returns, given his asking price.
Brooklyn could look to recoup some value by signing-and-trading Dinwiddie to a new team, but again, any pieces the Nets get back will have to be on favorable contracts. Given how far into the tax the Nets will be, they can't afford to willingly add any albatross deals. Acquiring a player via sign-and-trade also won't be possible due to restrictions facing taxpaying teams.
If possible though, the Nets should look to re-sign Brown, Green, and Griffin. The latter two veterans would have to be open to continue playing for the minimum or something close to it, but Brooklyn should be willing to go higher than that for Brown, a jack-of-all-trades who provided strong perimeter defense and fit in well alongside the team's stars. He's a restricted free agent, so the Nets can match any offer he receives as long as they're comfortable with the price.
Other tools at the Nets' disposal this offseason include the taxpayer mid-level exception and four picks in the 2021 draft (No. 27 and three second-rounders). Any player signed using the taxpayer MLE will cost the team exponentially more than $6MMish due to tax penalties, so if they use that exception on a free agent, the Nets will have to be confident that the player can outperform his salary.
As for the draft picks, they could be used to grease the wheels in a trade (such as a Jordan salary dump), but I expect the Nets to hang onto at least one or two of their second-rounders. Signing second-round draftees to minimum-salary contracts is a good way to prevent the tax bill from ballooning higher than necessary.
---
Salary Cap Situation
Note: Our salary cap projections are based on a presumed 3% increase, which would result in a $112.4MM cap for 2021/22.
Guaranteed Salary
James Harden ($44,310,840)
Kevin Durant ($42,018,900)
Kyrie Irving ($35,053,700)
Joe Harris ($17,357,143)
DeAndre Jordan ($9,881,598)
Landry Shamet ($3,768,342)
Nicolas Claxton ($1,782,621)
Total: $154,173,144

Player Options
Team Options
Non-Guaranteed Salary
Restricted Free Agents
Bruce Brown ($4,736,102 qualifying offer / $4,736,102 cap hold): Bird rights
Mike James ($1,869,178 qualifying offer / $1,869,178 cap hold): Non-Bird rights
Total (cap holds): $6,605,280

Two-Way Free Agents
Draft Picks
No. 27 overall pick ($2,036,280)
No. 44 overall pick (no cap hold)
No. 49 overall pick (no cap hold)
No. 59 overall pick (no cap hold)
Total: $2,036,280
Extension-Eligible Players
Landry Shamet (rookie scale)
Nicolas Claxton (veteran)
Kevin Durant (veteran)
James Harden (veteran)
Kyrie Irving (veteran)
DeAndre Jordan (veteran)
Unrestricted Free Agents / Other Cap Holds
Spencer Dinwiddie ($17,181,072): Bird rights 3
Tyler Johnson ($1,669,178): Early Bird rights
Timothe Luwawu-Cabarrot ($1,669,178): Early Bird rights
Blake Griffin ($1,669,178): Non-Bird rights
Jeff Green ($1,669,178): Non-Bird rights
Wilson Chandler ($1,669,178): Non-Bird rights 4
Total: $25,526,962

Offseason Cap Outlook

Next season's cap projects to be about $112MM+, with the tax line in the $136-137MM range. So, with $154MM+ in guaranteed salaries for just seven players, Brooklyn is essentially a lock to be a taxpaying team.
The Nets' total tax bill will depend on where the their team salary lands at season's end. The league assesses a penalty of $1.50 per dollar for the first $5MM over the tax line, but that number continues to rise as team salary climbs further and further. If the Nets carry a team salary $30MM over the tax threshold, they'll owe $85MM in tax penalties on top of their $177MMish in player salaries.
Cap Exceptions Available
Taxpayer mid-level exception: $5,890,000 5
Footnotes
Johnson's salary becomes partially guaranteed ($100K) after September 4.
Because he has been on a two-way contract with the Nets for two seasons, Chiozza is eligible for a standard minimum-salary qualifying offer.
Dinwiddie became an unrestricted free agent by declining his $12.3MM player option.
The cap hold for Chandler remains on the Nets' books from a prior season because it hasn't been renounced. He can't be used in a sign-and-trade deal.
This is a projected value.
Salary and cap information from Basketball Insiders, RealGM, and ESPN was used in the creation of this post.