After an injury-plagued 2019/20 season in which they barely sneaked into the Western Conference playoffs, the Trail Blazers entered the '20/21 campaign with loftier goals. Portland added Robert Covington and Derrick Jones on the wing and was counting on the frontcourt duo of Jusuf Nurkic and Zach Collins to get healthy and help complement the team's star backcourt duo of Damian Lillard and CJ McCollum.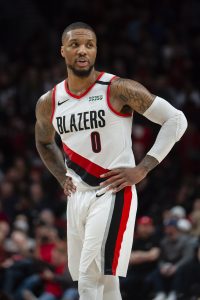 However, injuries continued to be a problem for Nurkic, who missed half the season, and for Collins, who missed the entire year. And while Covington meshed well with the current core, Jones didn't have the impact the Blazers had hoped for, falling out of the rotation in the second half.
President of basketball operations Neil Olshey added some midseason reinforcements by acquiring Norman Powell from Toronto, but it wasn't enough to make a serious playoff run. Portland was eliminated from the postseason in the first round by a shorthanded Nuggets squad, spelling the end of Terry Stotts' tenure as the club's head coach.
The offseason has gotten off to a shaky start in Portland. There are questions about whether Lillard's loyalty to the franchise might start wavering after what he called the most frustrating season of his career, and the Blazers came under fire for hiring Chauncey Billups as their new head coach in light of the sexual assault allegations he faced in 1997.
The Blazers said they investigated the incident and came away confident that Billups hadn't engaged in any wrongdoing, but their caginess and lack of transparency left many fans with a bad taste. Olshey and Billups may have some work to do to ensure that both Lillard and those fans feel comfortable moving forward with the franchise.
---
The Trail Blazers' Offseason Plan:
The Blazers will be capped out even before attempting to re-sign Powell, all but eliminating free agency as a viable path for pursuing roster upgrades. The team also doesn't have either of its 2021 draft picks, having traded away its first-rounder last year for Covington and its second-rounder two years ago for Rodney Hood.
That leaves the trade market as Olshey's best bet for reshaping the roster.
Lillard is, of course, Portland's best trade chip, but the team won't move the All-NBA point guard unless he expresses a desire to leave. Lillard has long been loyal to the Blazers and still has four years left on his contract, so I wouldn't expect him to force his way out this summer — it's not impossible, but I imagine he'll want to at least see what Billups brings to the team before making any major decisions.
If Lillard is off the table, that leaves McCollum and Nurkic as two potential major trade chips for the Blazers. Olshey has long insisted he doesn't want to break up Portland's high-scoring backcourt duo, but trading McCollum for an impact forward or big man would certainly help balance the roster. It's unclear how high McCollum's value will be on the trade market though, since he has $100MM left on his contract and will be entering his age-30 season.
Nurkic, meanwhile, has played solid two-way basketball in the middle in the past, but leg injuries have limited his effectiveness. The veteran center also dropped hints at the end of the season that he didn't necessarily envision a long-term future for himself in Portland. While his value isn't as high as it would've been two years ago, his $12MM expiring salary would certainly be movable. He'd even have positive value if he's back to full health.
No other players on the Blazers' roster should be untouchable, though Covington is on a team-friendly deal and the club may still be high on young players like Anfernee Simons and Nassir Little, despite their up-and-down development.
In free agency, re-signing Powell should be a priority, especially if the Blazers make a trade involving McCollum. Portland gave up a productive and controllable rotation player in Gary Trent Jr. to acquire Powell and won't want to lose him for nothing.
Collins once looked like a long-term keeper, but he has undergone three surgeries on his foot in the last year. It's possible he'll be back, but it would have to be at a bargain rate. Portland may not even tender him a qualifying offer.
Role players like Carmelo Anthony and Enes Kanter will also be free agents and seem to enjoy playing for the Blazers. If Lillard remains in Portland, I wouldn't be surprised to see them stick around too.
---
Salary Cap Situation
Note: Our salary cap projections are based on a presumed 3% increase, which would result in a $112.4MM cap for 2021/22.
Guaranteed Salary
Damian Lillard ($39,344,970) 1
CJ McCollum ($30,864,198)
Robert Covington ($12,975,471)
Jusuf Nurkic ($4,000,000) — Partial guarantee. Non-guaranteed portion noted below. 2
Anfernee Simons ($3,938,818)
Andrew Nicholson ($2,844,429) — Waived via stretch provision.
Nassir Little ($2,316,240)
CJ Elleby ($1,517,981)
Total: $97,802,107

Player Options
Team Options
Non-Guaranteed Salary
Jusuf Nurkic ($8,000,000) 2
Total: $1,824,003

Restricted Free Agents
Two-Way Free Agents
Draft Picks
Extension-Eligible Players
Anfernee Simons (rookie scale)
Robert Covington (veteran)
Jusuf Nurkic (veteran)
Unrestricted Free Agents / Other Cap Holds
Enes Kanter ($6,506,955): Early Bird rights
Caleb Swanigan ($3,665,787): Bird rights 6
Carmelo Anthony ($1,669,178): Early Bird rights
Harry Giles ($1,669,178): Non-Bird rights
Rondae Hollis-Jefferson ($1,669,178): Non-Bird rights
Total: $15,180,276

Offseason Cap Outlook

It's a safe bet that the Blazers will guarantee Nurkic's salary for 2021/22, and Jones seems likely to opt in. Those moves would bring Portland's total guaranteed commitments to about $115.5MM for eight players, pushing team salary over the cap. If they re-sign Powell, the Blazers may find themselves in luxury tax territory again next season.
For now, we're assuming Portland will have its full mid-level exception and bi-annual exception available, but that could change if team salary creeps into the $130-135MM range (or higher).
Cap Exceptions Available
Mid-level exception: $9,536,000 7
Bi-annual exception: $3,732,000 7
Trade exception: $1,737,145
Trade exception: $1,663,861
Trade exception: $661,655
Footnotes
This is a projected value. Lillard's salary will be 35% of the 2021/22 salary cap.
Nurkic's salary becomes fully guaranteed after August 3.
Powell's decision is reportedly due by July 22.
Jones' decision is reportedly due by July 28.
Because he'll have four years of NBA service, Leaf is ineligible to sign another two-way contract.
The cap hold for Swanigan remains on the Trail Blazers' books from a prior season because he hasn't been renounced. He can't be used in a sign-and-trade deal. The Blazers also can't offer Swanigan a starting salary worth more than his cap hold, since his rookie scale team option for 2020/21 was declined.
These are projected values. If the Trail Blazers approach or cross the tax line, they may forfeit these exceptions and instead gain access to the taxpayer mid-level exception ($5.9MM).
Salary and cap information from Basketball Insiders, RealGM, and ESPN was used in the creation of this post.