Over the last couple months, NBA teams have been overhauling their rosters, signing free agents, making trades, and locking up their draft picks to contracts. Prior to the draft and free agency though, a handful of teams completed another major offseason change that shouldn't be overlooked — four NBA clubs named a new head coach.
Here's a recap of this offseason's head coaching changes and a brief look at how they played out:
---
Charlotte Hornets
Hired: Steve Clifford (story)
Replaced: James Borrego (story)
Contract details: Three-year deal (two guaranteed seasons, third-year team option)
Other candidates who reportedly interviewed or received consideration: Kenny Atkinson, Mike D'Antoni, Darvin Ham, Charles Lee, Terry Stotts, Sean Sweeney, David Vanterpool, Frank Vogel
While it didn't receive as much fanfare as some of this spring's other head coaching searches, the Hornets' hiring process was easily the most eventful of the bunch. After dismissing Borrego due to Charlotte's defensive shortcomings and a failure to make its first and only play-in game competitive in either of the last two seasons, the team embarked on a hunt for an experienced replacement.
Atkinson, D'Antoni, and Stotts were reported to be finalists, with the decision coming down to Atkinson and D'Antoni. The Hornets offered Atkinson the job and he accepted, but eight days later, word broke that he had reneged on the agreement between the two sides, sending Charlotte back to square one.
Rather than returning to D'Antoni or Stotts, the Hornets pivoted in another direction, opting for a reunion with Clifford, who coached the club from 2013-18.
By hiring not just a former NBA head coach but one who coached the Hornets only four years ago, the organization certainly opened itself up to criticism for going the "retread" route. But Clifford had more success in his five seasons in Charlotte than any other head coach has in recent team history. Since reentering the NBA in 2004, Charlotte has made the playoffs just three times since then, and two of those postseason berths came during Clifford's tenure.
---
Los Angeles Lakers
Hired: Darvin Ham (story)
Replaced: Frank Vogel (story)
Contract details: Four-year deal
Other candidates who reportedly interviewed or received consideration: Kenny Atkinson, Adrian Griffin, Mark Jackson, Charles Lee, Terry Stotts
Vogel's firing had been rumored since the first half of the 2021/22 season, so it came as no surprise when he was quickly let go following the end of the regular season. He led the Lakers to a championship less than two years ago, but the team's 33-49 showing in '21/22 was so disappointing that he became an obvious fall guy.
The Lakers were linked to a number of high-profile candidates during their search – they reportedly had interest in Nick Nurse, Doc Rivers, Quin Snyder, and Juwan Howard – but eventually focused on a handful of more realistic options.. They narrowed their finalists to Ham, Stotts, and Atkinson, then chose Ham, the only one of the three without any prior head coaching experience.
A veteran assistant who was on the Lakers' staff from 2011-13 and then plied his trade under Mike Budenholzer in Atlanta and Milwaukee, Ham should bring a fresh perspective to a roster that didn't mesh well last season. L.A. will be hoping he can make the same sort of immediate impact that former players and first-time head coaches Ime Udoka and Willie Green did last season in Boston and New Orleans, respectively.
---
Sacramento Kings
Hired: Mike Brown (story)
Replaced: Alvin Gentry (story)
Contract details: Four-year deal
Other candidates who reportedly interviewed or received consideration: Steve Clifford, Mike D'Antoni, Darvin Ham, Will Hardy, Mark Jackson, Charles Lee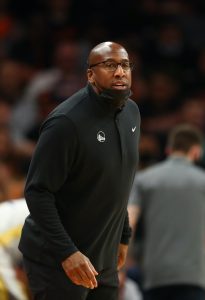 Gentry, who replaced Luke Walton during the first half of the 2021/22 season, previously stuck around following interim stints in Detroit and Phoenix to become those teams' permanent head coaches. But after leading the Kings to an underwhelming 24-41 record to close out the season, he was unable to replicate that feat in Sacramento.
One report early in the Kings' search process indicated they were seeking out a candidate who had experience turning a lottery team into a playoff club and who could improve Sacramento's defense. The team ultimately landed on Brown, who achieved the first of those requirements in Cleveland and has a reputation as a defensive-minded coach.
Brown's previous head coaching stints have been a mixed bag. He led the Cavs to an outstanding 272-138 (.663) regular season record from 2005-10, but the team only made two deep playoff runs during that time — once to the Eastern Finals and once to the NBA Finals. He then had brief stints with the Lakers (71 games) and Cavs again (82 games) before serving as an assistant in Golden State for several years.
His time spent honing his coaching skills as part of the Warriors' championship teams will be put to the test in Sacramento, where he'll be tasked with getting the Kings back to the playoffs for the first time since 2006.
---
Utah Jazz
Hired: Will Hardy (story)
Replaced: Quin Synder (story)
Contract details: Five-year deal
Other candidates who reportedly interviewed or received consideration: Jerome Allen, Johnnie Bryant, Sam Cassell, Adrian Griffin, Alex Jensen, Charles Lee, Joe Mazzulla, Chris Quinn, Lamar Skeeter, Terry Stotts, Sean Sweeney, Jason Terry, Frank Vogel, Kevin Young
Speculation about Snyder's future began well before the Jazz were eliminated in the first round of the playoffs, but he didn't formally step down until June 5, over a month after Utah's season came to an end.
Getting a late start on their coaching search didn't dissuade the Jazz from exercising a patient approach and casting a wide net. Danny Ainge and Justin Zanik interviewed 14 candidates for the position, reportedly focusing on coaches who were highly regarded for their player development skills and defensive acumen.
Utah's eventual choice was an interesting one. Hardy came from Ainge's old team in Boston, though the two didn't overlap at all — Hardy only joined the Celtics' coaching staff in 2021 after serving as an assistant under Gregg Popovich in San Antonio for several years.
The 34-year-old Hardy becomes the NBA's youngest active head coach and received a five-year contract, the longest deal of any of this year's new head coaches. The long-term agreement signals the Jazz have confidence in him to lead the team for years to come, even – or perhaps especially – if they pivot to a rebuild by trading not only Rudy Gobert but Donovan Mitchell.