Every week, Hoops Rumors takes a closer look at players who will be free agents or could become free agents next offseason. We examine if their stock is rising or falling due to performance and other factors. With the playoffs in full swing, we turn our attention to the Western Conference:
Patrick Beverley, Clippers, 30, PG (Up) – Signed to a four-year, $23MM deal in 2015
Taking a charge while holding one his shoes that came loose epitomizes how Beverley and his team have played during the series. There's a huge talent gap between them and the Warriors but they refuse to give an inch. Beverley has done a whole lot more than get under Kevin Durant's skin. He's second on the team in assists and rebounds through the first five games while shooting 42.9% from deep. In Games 4 and 5, he averaged 14.5 PPG, 12 RPG and 4.5 APG. Beverley will get a nice raise this summer, whether he lands a starting job or a sixth man role.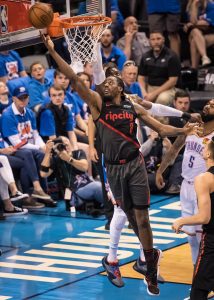 Al-Farouq Aminu, Trail Blazers, 28, SF (Up) – Signed to a four-year, $30MM deal in 2015
Portland's glue guy played an underrated role in the team's first-round knockout of the Thunder. He was second on the team in defensive rebounds, a major factor with Jusuf Nurkic sidelined. He also led the team in blocks, was second in steals and shot 40.9% from distance, along with providing his usual solid defense. Aminu doesn't dazzle but he quietly does his job. Reliable, durable role players like Aminu will always have suitors and he'll receive a full mid-level exception or more on the open market.
Jordan Bell, Warriors, 24, PF/C (Down) — Signed to a two-year, $2.2MM deal in 2017
DeMarcus Cousins' season-ending injury hasn't helped Bell get on the court. He only played 14 minutes in the first five games against the Clippers and was benched in Games 4 and 5. Bell's immaturity has irked the staff, including a late-season suspension for making unauthorized charges to assistant coach Mike Brown's hotel room. Bell can be a restricted free agent if the Warriors extend a $1.8MM qualifying offer, but the 2017 second-round pick doesn't appear to have a future with the organization.
Markieff Morris, Wizards, 29, SF (Down) – Signed to a one-year, $57.3K deal in 2019
Brother Marcus Morris ripped the Thunder coaching staff over Markieff's limited role during the postseason. Markieff only played four minutes in the 118-115 Game 5 loss to Portland that ended the Thunder's season. He wasn't much of a factor in the first four games of the season, when he averaged around 13 MPG. Markieff praised the organization afterward but his minimal impact won't help in unrestricted free agency. Add in the neck issue that limited him to 58 regular-season games and Morris won't have teams beating down his door.
Photo courtesy of USA Today Sports Images.