5:32pm: The three-team trade is now official, the Nets announced in a press release. Bertans goes to Washington, Carroll to San Antonio, and White's draft rights to Brooklyn. The Nets also acquired the draft rights for 2014 second-rounder Nemanja Dangubic from the Spurs.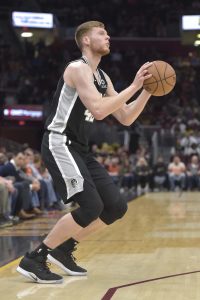 4:33pm: The Spurs are finalizing a trade that will send sharpshooting forward Davis Bertans to the Wizards, reports ESPN's Adrian Wojnarowski (via Twitter).
As Wojnarowski explains, trading Bertans will allow San Antonio to acquire DeMarre Carroll and his new three-year deal via sign-and-trade. According to David Aldridge of The Athletic (via Twitter), the Nets will receive the rights to draft-and-stash player Aaron White from the Wizards in the three-team deal, which will send Carroll from Brooklyn to the Spurs.
Bertans, 26, is one of the most talented outside shooters among the NBA's big men, having knocked down 42.9% of his three-pointers last season. In 76 total games (21.5 MPG), he averaged 8.0 PPG and 3.5 RPG for San Antonio. He'll have an opportunity to earn a frontcourt role for a Wizards team that lost Bobby Portis and Trevor Ariza and also appears unlikely to bring back Jabari Parker or Sam Dekker.
The Wizards, who will absorb Bertans using the $8.6MM trade exception they created when they dealt Markieff Morris in February, will be right at the luxury-tax line after acquiring the Spurs' forward. However, they could create some breathing room by waiving Jonathon Simmons before his 2019/20 salary becomes fully guaranteed, tweets ESPN's Bobby Marks.
As for the Spurs, they had sought more versatility on the wing and at the forward spots, tweets Jabari Young of The Athletic. Swapping Bertans for Carroll will point them in that direction. Additionally, by folding Carroll's agreement into this deal as a sign-and-trade, the Spurs retained their mid-level exception, which they'll use to sign Marcus Morris, another versatile forward.
San Antonio initially reached a two-year contract agreement with Carroll, but amended it today to add an extra season, since sign-and-trade contracts must span at least three years. It's not clear if that third year will be guaranteed.
As for the Nets, it's unclear if their involvement in this deal extends beyond acquiring White and doing a favor to Carroll. The 49th overall pick in the 2015 draft, White has spent the last four seasons playing overseas for teams in Germany, Russia, and Lithuania.
Photo courtesy of USA Today Sports Images.