Missed this week's biggest NBA headlines? We've got a recap for you. Here are some of the most noteworthy stories from the last seven days:
The Thunder and Knicks agreed to a deal that will send Carmelo Anthony to Oklahoma City in exchange for Enes Kanter, Doug McDermott, and a future second-rounder.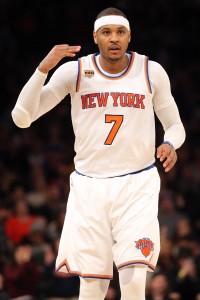 The Knicks didn't want to enter training camp with the distraction of having an unresolved situation with their disgruntled All-Star and they were able to find a deal after Anthony expanded his list of teams in which he would accept a trade to. For Oklahoma City, it's another move during an offseason that is clearly about making the 2017/18 Thunder team more competitive regardless of long-term risk. Anthony, summer acquisition Paul George and reigning MVP Russell Westbrook can all become free agents next July. At least until then, OKC will have a trio that rivals any other in the league.
The Lakers added Andrew Bogut on a one-year deal. After breaking his leg during his only appearance for the Cavs last season, Bogut will suit up for Los Angeles where he will compete for backup minutes at the five behind offseason addition Brook Lopez.
Bucks reached deals to add several veterans this week. The team will bring in Gerald Green, Brandon Rush, and Kendall Marshall. Green, who contributed to the Celtics' postseason run to the Conference Finals last season, and Marshall, who spent last season in the G-League, will have an opportunity to compete for a roster spot during training camp. While he signed for the minimum, Rush is the favorite to remain on the roster past opening night.
Alex Len decided he will play under a one-year qualifying offer this season. Just like Nerlens Noel found out, the restricted free agency market isn't as lucrative as it has been in years past, especially for traditional centers. As a result, Len will play out the year in Phoenix and take another stab at the market as unrestricted free agent next summer.
The Sixers are still looking to trade Jahlil Okafor. Philadelphia is optimistic about coming to terms with Joel Embiid on an extension, which means there won't be much of competition for the five spot in Philadelphia for the foreseeable future. It's somewhat shocking that Okafor remains on the roster after two straight years of trade speculation, though that could simply be a result of a suppressed center market.
Here are 10 more notable NBA stories from the last week:
Photo courtesy of USA Today