While the NBA won't announce this year's award winners until June, we're making our picks for 2019's major awards now.
The Hoops Rumors writing team has weighed in with our choices below, but we also want to know which players, coaches, and executives you think are most deserving of the hardware this season, so jump into the comment section below to share your thoughts.
We're wrapping things up today with the award for Most Valuable Player. Here are our selections:
Chris Crouse: James Harden (Rockets)
This year's tight MVP race features two players whose teams built an entire offense around them. The scheme in Milwaukee is designed around Giannis Antetokounmpo's play-making ability and lack of shooting. Harden's masterful game is what powers Houston.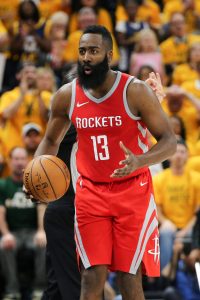 Giannis blossomed into a superstar during the 2018/19 season, blending his athleticism with a smart, fundamentally sound game. He led the league in win shares per 48 minutes and in player efficiency rating. Eight of the past 10 regular season leaders in PER have taken home the MVP award.
Harden, the reigning MVP, maintained his level of play this season, capping off a three-year stretch in which he realstically could have earned three Maurice Podoloff Trophies. In 2018/19, he led the league in win shares (15.2), points per game (36.1), and VORP (9.89, which ranks 12th all-time).
As I mentioned in part two of our "Contract MVPs," Giannis played under 2,400 minutes this season, ranking 47th in the league (sandwiched between CJ McCollum and Nicolas Batum). The Bucks were able to regularly handle competition and let Antetokounmpo sit early. Harden finished second in the league in time accrued, behind only Bradley Beal.
Should we penalize Antetokounmpo for the Bucks being a much better regular season team than the Rockets? No, but we also shouldn't discount what Harden was able to do, carrying a team plagued with instability because of injuries and a new cast of rotation players.
Both players are deserving, but Harden gets my vote.
Dana Gauruder: James Harden (Rockets)
I can't fault anyone who votes for Antetokounmpo, but here's the stat that tips the scale for me — Harden's 36.1 PPG is the highest since Michael Jordan averaged a career-high 37.1 in 1986/87. Harden was a one-man band on quite a few occasions, as Chris Paul missed 24 games and Clint Capela sat out 15 due to injuries. Despite facing defenses completely geared to stop him, Harden rarely had an off night. When the situation called for him to be more of a play-maker, he notched double digits in assists 24 times.
Arthur Hill: James Harden (Rockets)
The MVP narrative favors Antetokounmpo, who was the best player on the team with the best record, but Harden deserves the honor for a second consecutive year thanks to a historically great season. Harden posted the 10th 2,800-point season in league history and won the scoring race by a margin of 8.1 PPG. He also became the first player ever to average 36 points, seven assists and six rebounds in the same season.
Harden rallied the Rockets to the No. 4 seed after a painfully slow start, putting up scoring numbers we haven't seen in years while lifting his injury-riddled team up the standings. Antetokounmpo may have led the Bucks to 60 wins, but many of those came in an Eastern Conference that only had three other good teams once the Pacers lost Victor Oladipo. The Rockets were 53-29, so seven extra wins against weaker competition shouldn't be enough for anyone to take away Harden's trophy.
JD Shaw: James Harden (Rockets)
I was Team Giannis heading into the season and for roughly the first half of the campaign, but what Harden has been able to accomplish in 2019 is historically great — especially on the offensive end. He ended with 36.1 points per game on the year, the NBA's highest mark in over three decades. He led his team to a 53-29 record despite dealing with injuries across the roster. You can't go wrong with choosing either him or Antetokounmpo, really, but I'm sticking with Harden.
Luke Adams: Giannis Antetokounmpo (Bucks)
There's no doubt that Harden has posted historic numbers this season, but the same can be said of Antetokounmpo. The last – and only – player to match his 27.7 PPG, 12.5 RPG, and 5.9 APG was Oscar Robertson in his infamous triple-double season back in 1961/62, per Basketball-Reference.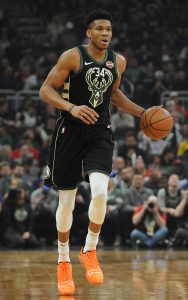 Antetokounmpo put up those numbers while also helping to anchor the league's best defense by net rating. Harden isn't as bad defensively as certain YouTube compilations may suggest, but his impact on that end of the floor pales in comparison to Giannis' — The Greek Freak ranked in the top 10 in the NBA in blocks per game (1.5) and in the top 15 in three-point shots contested per game (4.1), showing off a defensive versatility that allowed him to hound offensive players both on the perimeter and at the rim. He's a legit Defensive Player of the Year candidate.
Antetokounmpo's on/off court stats also reflect his value. The Bucks (+2.7) and Rockets (+2.4) had fairly similar net ratings with their respective stars on the bench, but Milwaukee was absolutely dominant when Giannis played (+12.8 net rating), while Houston's numbers when Harden played were simply very good (+6.4).
The quality of competition argument in Harden's favor isn't a particularly compelling one to me, given that the Bucks had a better winning percentage than the Rockets against both Eastern Conference opponents (.769 to .700) and Western foes (.667 to .615). I'm not overly swayed by Harden's role in the Rockets' midseason resurgence either, impressive as it was, since it's not as if he didn't also have a hand in the team's 11-14 start. That was the sort of slump the Bucks never experienced, thanks in large part to Giannis' dominance over 82 games.
Clark Crum: James Harden (Rockets)
This is a tough decision for me between The Beard and The Greek Freak, but I think Harden is closing the gap between himself and LeBron James as the greatest player in the world (sorry, Kevin Durant). That opinion, combined with Harden's ridiculous ability to put the ball into the hoop this season (his 2,818 total points scored are the most since Kobe Bryant in 2005/06, when The Black Mamba scored 2,832 points in two more games played) has me giving the slight edge to Harden.
Yes, I know Antetokounmpo had an all-time great stat line as well, and that his team had a better record. But the Western Conference is still better than the Eastern Conference and Harden had to carry the Rockets on his back for a large portion of the season due to injuries to key teammates. If Giannis wins, it would be well-deserved, but if I had to pick one of the two, I'd pick Harden.
Austin Kent: James Harden (Rockets)
It's physically painful for any sane basketball fan to say that Antetokounmpo shouldn't be named the 2018/19 MVP, but year-end awards are imperfect traditions.
To put it simply, Antetokounmpo is a 24-year-old marvel who just recorded one of the most mind-blowing seasons in NBA history. Unfortunately, there's only one name permitted on the ballot and while Antetokounmpo's 2018/19 campaign may very well have been worthy of the award in countless previous seasons, it just missed the cut in, well, 2018/19.
Here's why I've given Harden the nod: While both Harden and Antetokounmpo have reached unprecedented levels of dominance, Harden is the one that has reinvented and refined his game to single-handedly drag a ho-hum roster to title contention. Harden's ability to adjust his game to execute Mike D'Antoni's offense deserves more recognition than it gets.
Antetokounmpo's method is a relatively simple one: be gigantic, mythically athletic, and one of the hardest working players in the NBA. Harden, in contrast, has taken a relatively pedestrian NBA body, choreographed his footwork to the rhythm of a geometry text book and somehow established himself as one of the most potent point catalysts in NBA history.
In an era of padded stats and data-driven efficiency, Harden has Moneyballed the actual physics of the sport. He's not Shaquille O'Neal dunking with an opposing team's frontcourt hanging off his back; he's not LeBron James running like a train in transition; he's a portly combo guard who exploits weaknesses and studies angles like a teenager who makes $100K per year destroying people in Counter-Strike.
Harden has always been an All-Star caliber guard but now he's an All-Star caliber guard who draws fouls better than any player in the league – to the chagrin of everyone – and has perfected a step-back that renders anybody with less than a seven-foot wingspan helpless.
I eagerly await what comes next from Antetokounmpo – there's no question that he's the NBA's Best Asset – but if limited to one pick for MVP, I'm going with the mortal who figured out a new way to play a 100-year-old sport. I think in the tome of NBA history, that's a more valuable chapter.
Who is your pick for Most Valuable Player? Share your choices and your thoughts in the comment section below!
Previously:
Photos courtesy of USA Today Sports Images.