If you missed any of this past week's biggest headlines from around the NBA, we've got you covered with our Week in Review. Here are some of the most noteworthy stories from the last seven days: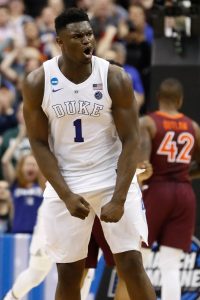 The Pelicans won the draft lottery, putting them in position to select Zion Williamson. The NBA's new lottery format helped generate some surprises on draft night, as New Orleans landed the No. 1 pick despite just a 6.0% chance. The Grizzlies moved up from No. 8 to No. 2, the Lakers moved up from No. 11 to No. 4, and the Knicks (No. 3) were the only bottom-four team to receive a top-four pick.
The Lakers hired Frank Vogel as their head coach as Jason Kidd as an assistant. The moves capped off an eventful search process that saw the team miss out on initial targets Monty Williams (hired by the Suns) and Tyronn Lue (negotiations fell apart). With Vogel only getting a three-year contract, there's speculation that Kidd could be laying in wait as his eventual replacement.
Tyreke Evans was dismissed and disqualified from the NBA for violating the league's anti-drug program. The shocking news ensures that Evans will miss at least the 2019/20 and 2020/21 seasons, since he's not eligible to apply for reinstatement for two years. Like O.J. Mayo and Chris Andersen before him, Evans' violation is believed to be related to a "drug of abuse."
The Cavaliers hired John Beilein as their new head coach. After an interview process that focused almost exclusively on NBA assistants, Cleveland surprised league observers by turning to the NCAA ranks for Beilein, who had coached the Michigan Wolverines for more than a decade. The two sides agreed to a five-year contract.
The Wizards have reportedly offered Tim Connelly a position as their head of basketball operations. Connelly, a Baltimore native who is the president of basketball ops for the Nuggets, is said to be weighing a four-year offer which is more lucrative than his current contract in Denver.
Here are 10 more top headlines worth passing along this week:
Photo courtesy of USA Today Sports Images.