The Sixers took two major in-season gambles during the 2018/19 campaign, plucking Jimmy Butler from Minnesota and putting together a package of assets to acquire Tobias Harris from the Clippers.
The team's five starters played in just 10 regular season games together due to various injuries and rest management. Those five saw their playoff run cut short in the second round after playing only 11 postseason games together as a group. The organization longs for an opportunity to get a larger sample size on its collection of talent.
Here are five key questions facing the franchise this summer:
1. How many starters will the Sixers bring back?

Philadelphia will face immense competition for Butler, Harris, and J.J. Redick on the free agent market.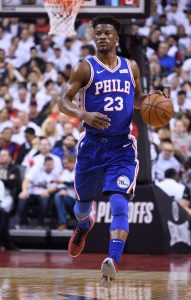 Multiple teams are expected to offer Harris a max deal, with the Nets standing out as a noteworthy threat. The interest between Harris and Brooklyn is reportedly mutual. The Grizzlies, Jazz, Mavericks, Kings, and Pacers have all been linked to Harris as well.
Butler is confident he'll also receive a full max and the Lakers will be among the teams looking to swoop in and steal the four-time All-Star. GM Elton Brand plans on doing everything he can to bring Butler back.
Redick's underwhelming playoffs aside, his shooting will be coveted by many teams in the league. He made just over $12MM last year, though it's unclear what the price range for him will be going forward as he prepares to enter his age-35 season.
The Sixers will be among the offseason winners if they can bring back all five starters and supplement them with an additional role player or two. Of the three pending free agents, I'd speculate Butler is the most likely to leave.
2. What financial resources will they have to acquire additional talent?

Assuming all five starters come back, or at least Harris and Butler on max deals, the Sixers will likely operate as an over-the-cap team. That will allow them to use two exceptions:
The standard mid-level exception: $9,246,000.
The bi-annual exception: $3,619,000.
The team will have to be cognizant of the tax threshold when re-signing its own players. The tax line is projected to come in at $132MM and if the Sixers go over that, they are looking at a reduced mid-level (the $5,711,000 taxpayer MLE) and they'd lose the ability to use the bi-annual exception. It's also worth noting that the 76ers have two small trade exceptions available ($957,480; $2,339,880), provided they remain an over-the-cap team.
As I mentioned on a recent edition of the NBA Math Hardwood Knocks Podcast, the Sixers can break up the MLE in separate pieces, signing multiple free agents with the exception. The team will look to add shooting this offseason, though overall depth is the overarching need.
Could the franchise bring in both Marcus Morris and Markieff Morris, allowing the Philadelphia natives to split the MLE and once again play together as they wished to do earlier in their careers? Marcus shot 37.5% from long range in 2018/19 and he'd provide a solid piece off the bench. Markieff is coming off an injury-plagued season and could be a buy-low target. Together, they could solidify the team's forward rotation.
3. What about the rest of the Sixers' free agents?

James Ennis would "love to come back" Philadelphia, as he recently told our own JD Shaw.
"I love the [Sixers] fans," Ennis said. "I love how they support the team. I like Philly a lot and I would love to come back."
The Sixers only hold Ennis' Non-Bird rights, which limits their ability to offer him a substantial raise on his $1.62MM salary he made this past season. They'll likely be forced to use one of their exceptions or cap room to make a competitive offer.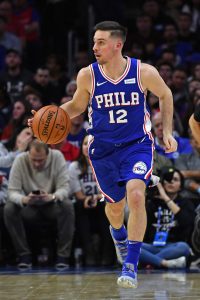 The team won't be as limited in its ability to bring back several of its other free agents. Philadelphia holds T.J. McConnell's and Boban Marjanovic's full Bird rights and Amir Johnson's Early Bird rights. Mike Scott, like Ennis, will only have Non-Bird rights this offseason, but those rights will be a little more useful in Scott's case due to his larger salary. The Sixers could offer Scott up to about $5.2MM using his Non-Bird rights.
If the team brings back both Harris and Butler, we should see a few of the Sixers' other free agents return to fill out the bench. It's hard to envision McConnell and Marjanovic not coming back, barring an unexpected offer from a rival club. Scott and Johnson could also return for low amounts, giving the Sixers stability in what should be something along the lines of their ninth through 13th man.
4. Will the Sixers continue their trend of trading in the draft?

The Sixers haven't been afraid to move around on draft night. They've executed multiple trades with their draft picks in recent years:
2017
Traded up to the No. 1 overall slot to select Markelle Fultz prior to the draft.
Traded two 2020 draft picks to the Magic for the rights to the No. 25 overall pick (Anzejs Pasecniks).
Traded the Nos. 39 and 46 picks away for cash.
2018
The Sixers currently have five selections for Thursday's draft. The first comes in at No. 24, which is a selection that Brand and his front office aim to turn into an immediate contributor. Cameron Johnson from North Carolina or Villanova's Eric Paschall might fit the bill.
It's unlikely the 76ers will use all four of their second-rounders (Nos. 33, 34, 42, and 54) on players who will be on their roster in 2019/20, so stay tuned for another draft night trade in Philadelphia.
5. What if the Sixers lose Butler, Harris, and Redick in free agency?
The Sixers have approximately $41MM in guarantees for just four players: Joel Embiid, Ben Simmons, Smith, and Jonah Bolden. Factoring in minimum roster cap holds, Philadelphia could carve out roughly $58MM in space, assuming the team waives Jonathon Simmons, leaves Pasecniks abroad or trades him, and renounces every pending free agent.
An optimist would look at this situation and say they're still in position to add a max free agent. But if two max free agents like Harris and Butler decide to take less to go elsewhere, it's not a promising outlook for the club. For what it's worth, Philadelphia can offer Harris and Butler more years and larger annual raises than any other team.
It seems unlikely that Embiid and Simmons are the Sixers only returning starters next season. If Philadelphia is forced to put an entirely new cast around the young duo next season, it would be a loss for the franchise.
---
Check out the Philadelphia 76ers' offseason salary cap outlook right here.

---
Salary information from Basketball Insiders was used in the creation of this post. Photos courtesy of USA Today Sports Images.