Hoops Rumors is breaking down the 2019 offseason for all 30 NBA teams, revisiting the summer's free agent signings, trades, draft picks, departures, and more. We'll evaluate each team's moves from the last several months and look ahead to what the 2019/20 season holds for all 30 franchises. Today, we're focusing on the Memphis Grizzlies.
Signings:
Standard contracts:

Jonas Valanciunas: Three years, $45MM. Re-signed using Bird rights.
Tyus Jones: Three years, $26.45MM. Signed using mid-level exception. Timberwolves didn't match offer sheet.
Marko Guduric: Two years, $5.38MM. Signed using bi-annual exception.

Two-way contracts:
Non-guaranteed camp contracts:
Trades:
Draft picks:
1-2: Ja Morant — Signed to rookie contract.
1-21: Brandon Clarke — Signed to rookie contract.
Departing players:
Jevon Carter
Mike Conley
C.J. Miles
Chandler Parsons
Julian Washburn (two-way)
Delon Wright
Other offseason news:
Salary cap situation:
Remained over the cap.
Carrying approximately $124.05MM in guaranteed salary.
Hard-capped.
$998K of bi-annual exception still available (used $2.63MM on Marko Guduric).
Seven traded player exceptions available; largest TPE ($4.74MM) expires 7/8/20.
---
Story of the summer:
It was the end of an era in Memphis in more ways than one in 2019.  The Grizzlies completed a massive overhaul of their front office and coaching staff in the spring, ensuring that longtime decision-makers like Chris Wallace and John Hollinger were no longer calling the shots. In their place, Jason Wexler and Zach Kleiman are running the show, with help from veteran basketball executives like Rich Cho and Glen Grunwald.
The Grizzlies' new-look management group completed a series of roster changes that Wallace's group started earlier in the year. After trading Marc Gasol at last year's deadline, Memphis sent Mike Conley to Utah this summer, fully severing ties with the squad that earned seven consecutive playoff berths from 2011-17. The longest-tenured Grizzlies players are now 2017 draftees Ivan Rabb and Dillon Brooks.
With long-term franchise cornerstones Gasol and Conley no longer in the picture, the Grizzlies are betting on Jaren Jackson Jr. and this year's No. 2 overall pick Ja Morant as the new foundational pieces in Memphis. Both players are still just 20 years old, so the franchise will take a patient approach in building around them, and that patience was on display this offseason.
In addition to trading Conley, the Grizzlies also gained assets by taking on unwanted contracts belonging to Andre Iguodala and Josh Jackson, and by agreeing to sign-and-trade restricted free agent Delon Wright to Dallas. In total, those deals netted Memphis three first-round picks and several more second-rounders, setting the organization's rebuild on the right track.
It's still very early in the process, so it's not clear yet how the Grizzlies' current pieces will fit together or what other opportunities will arise as they wait for JJJ and Morant to develop into impact players. But the 2019 offseason represented a promising start to that process.
Key offseason losses: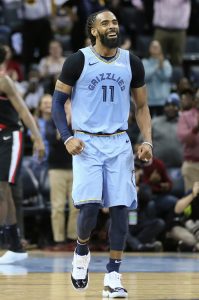 Conley spent the first dozen years of his NBA career in Memphis, and was one of the league's most productive – and underrated – point guards during that time. No 12-year veteran with zero All-Star appearances on his résumé has been more valuable than Conley since 2007, and 2018/19 was arguably his best year yet, as he established a new career-high in points per game (21.1), while also contributing 6.4 APG, a .364 3PT%, and strong leadership to a team entering a transition phase.
You could make the case that Morant, the Grizzlies' new point guard of the future, would have benefited greatly from spending a year or two playing behind and alongside Conley, but it made sense that Memphis' new management group wanted to cash in on the 31-year-old's increased trade value this summer.
Besides Conley, the Grizzlies will be without a few other regular rotation players in 2019/20. Wright, Avery Bradley, Justin Holiday, C.J. Miles, and Joakim Noah all moved on after spending part of last season in Memphis. And, notably, the Chandler Parsons era came to an end.
The fondness that Grizzlies fans feel when they recall Conley's tenure almost certainly won't be extended to Parsons, who signed a maximum-salary contract with the franchise in 2016 and then appeared in just 95 games over the next three years. Health problems plagued Parsons throughout his time in Memphis, keeping him out of action more often than not and limiting his effectiveness when he was able to play — he averaged just 7.2 PPG on 39.3% shooting over the last three seasons.
Key offseason additions:
There were three players in the 2019 draft class widely considered to be in a top tier of their own, and the Grizzlies got one of those three when they selected Morant with the No. 2 overall pick. Zion Williamson would have been a more electric addition to the roster, and RJ Barrett wouldn't have been a bad consolation prize, but you could make a strong case that Morant is the best possible partner for Jaren Jackson, the team's 2018 lottery pick. The Grizzlies hope to see Morant and Jackson breaking down defenses in the pick and roll for years to come.
Since Morant may not be ready to shoulder a massive load at point guard out of the gate, the Grizzlies went out and added a young veteran to fortify the depth chart. Tyus Jones, who signed the lone offer sheet of 2019's free agent period, only has four years of experience under his belt, but the 23-year-old could become the de facto "veteran" leader in the backcourt.
The Grizzlies also surrendered a future second-round pick to move up a couple spots in the first round and snag Brandon Clarke, a former Gonzaga forward who slipped a little on draft night. Clarke isn't necessarily viewed as the kind of foundational building block that Morant and Jackson are, but if he delivers on his potential, he can become a long-term fixture in the rotation sooner rather than later.
Most of the rest of the Grizzlies' offseason additions were rolls of the dice on young projects whose stocks have slipped a little (Josh Jackson, De'Anthony Melton, and Grayson Allen) or acquisitions of solid veterans who will find themselves on the trade block (Iguodala, Jae Crowder, and Solomon Hill).
Outlook for 2019/20:
The Grizzlies aren't as far along in their rebuilding process as teams like the Bulls, Suns, and Hawks, who will look to improve their records this season. In Memphis, the new front office remains in asset-gathering mode and has no illusions about competing for a playoff spot right away.
After winning 33 games last season, the Grizzlies likely won't approach that total again in 2019/20. In fact, a bottom-five finish is a good bet. But if Morant and JJJ are improving and Memphis is in position to add another top young prospect to its core in the draft next spring, the plan will be on the right track.
Salary information from Basketball Insiders was used in the creation of this post. Photos courtesy of USA Today Sports Images.