Over the course of the 2019/20 NBA season, up until February's trade deadline, we're keeping an eye on potential trade candidates from around the NBA, monitoring their value and exploring the likelihood that they'll be moved. Each of these looks at possible trade candidates focuses on a specific division, as we zero in on three players from that division.
The Cavaliers and Jazz broke the NBA's trade drought today, completing the league's first trade since July 16. While I wouldn't necessarily expect the floodgates to open on the trade market as a result of that deal, it certainly won't be the last one completed this winter.
As we wait for an Atlantic team to make its first in-season trade of the 2019/20 season, let's identify three more trade candidates from around the division…
Marcus Morris, F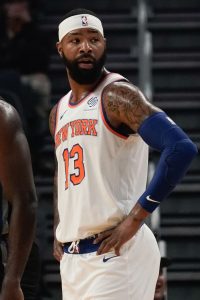 New York Knicks
$15MM cap hit; UFA in 2020

Virtually every veteran on the Knicks' roster is a trade candidate this season, as we noted in our last look at the Atlantic. However, Morris projects to be the most valuable of a group that also features Julius Randle, Bobby Portis, Wayne Ellington, and others.
Morris is the only player of that bunch who has no guaranteed money on his contract beyond this season, and he's also been the most productive one so far, with a team-best 18.4 PPG to go along with an impressive .466 3PT%. Multiple reports have suggested that the Knicks could realistically expect to land a first-round pick in return for Morris.
The veteran forward has said he doesn't want to be traded, since he likes playing in New York and would prefer to try to help the Knicks reverse their first-half skid. But he has no ability to veto a trade or steer himself to a specific destination, so it will likely come down to whether the Knicks get an offer they like.
Zhaire Smith, SG
Philadelphia 76ers
$3.1MM cap hit; $3.2MM guaranteed salary in 2020/21; $4.9MM team option for 2021/22

John Hollinger of The Athletic identified Smith this week as a recent first-round pick he's worried about, since the 20-year-old "has struggled to make an impact even in G League games due to his limited skill level." That's not good news for a Sixers team that could badly use a wing like Smith off the bench.
Given how young he is, Smith could appeal to a rebuilding club that likes his athleticism and thinks it could get more out of him. Of course, the 76ers would be selling low, which the front office may be reluctant to do again after seeing Markelle Fultz contribute in Orlando this season.
Still, the Sixers don't have a ton of expendable pieces earning more than the minimum, so even if they're not ready to give up on Smith, he might make sense as a salary-matching piece in a trade package to acquire a more reliable contributor. Attaching Smith to Jonah Bolden, for instance, would allow Philadelphia to bring back a player earning up to about $8.4MM.
Stanley Johnson, F
Toronto Raptors
$3.6MM cap hit; $3.8MM player option for 2020/21

Like Smith, Johnson looks like he could serve a potential trade chip for a contending team that lacks expendable mid-level players. Of the four outside free agents the Raptors brought in this past summer, Johnson is being paid the most and has played the least, due to both injuries and ineffectiveness.
There's still time for the former lottery pick to emerge as a regular contributor in Nick Nurse's rotation — Rondae Hollis-Jefferson worked his way out of the doghouse earlier in the season and is now seeing big minutes off the bench for the club. It's possible Johnson will follow suit.
Even if Johnson remains glued to the bench, it remains unclear what sort of approach the Raptors will take at the trade deadline But if the club is looking for a modestly-priced bench upgrade, Johnson would be the most logical outgoing piece and could be the on the move.
Revisit the rest of our 2019/20 Trade Candidate series right here.
Photo courtesy of USA Today Sports Images.