Over the course of the 2019/20 NBA season, up until February's trade deadline, we're keeping an eye on potential trade candidates from around the NBA, monitoring their value and exploring the likelihood that they'll be moved. Each of these looks at possible trade candidates focuses on a specific division, as we zero in on three players from that division.
The Central Division may have one or two more sellers than initially anticipated this season. Detroit and Chicago had playoff aspirations in the fall, but are both solidly in the lottery at this point, with the 14-25 Pistons narrowly ahead of the 13-25 Bulls. Both teams are dealing with significant injuries to frontcourt players and may look to move a veteran or two before the trade deadline.
Here are three more trade candidates from the Central, including one from each of those two struggling clubs:
Andre Drummond, C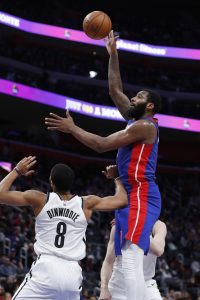 Detroit Pistons
$27.1MM cap hit; $28.8MM player option for 2020/21

Blake Griffin's knee injury, which may be season-ending, makes it all the more likely that the Pistons will throw in the towel on the 2019/20 season and seriously consider getting what they can for Drummond. Even if the return for the big man isn't massive, it might be a better outcome than seeing him walk for nothing in the offseason or having to invest heavily in a pricey new long-term contract for him.
The Hawks were among the teams linked last week to Drummond and appear on the surface to be an ideal fit for him. They have a massive expiring contract (Chandler Parsons') that could be used for salary-matching purposes; they have an extra 2020 first-round pick to offer (the Nets'); and they're motivated to get up-and-coming star Trae Young some more help.
The idea of a Young/Drummond pick-and-roll combination is legitimately intriguing, but the Hawks have some leverage here — they'll have more than enough cap room in the summer of 2020 to make a play for Drummond as a free agent. Are his Bird rights important enough that they'd give up a first-round pick and/or another asset of value to land him now?
It would be in the Pistons' best interests to engage a couple potential trade partners that don't project to have 2020 cap room in order to put pressure on Atlanta and drive up the price on Drummond. The report linking teams like the Raptors, Celtics, and Mavericks to the big man may have been designed to do that. We'll see in the coming weeks just how serious those clubs – or others – are about Drummond.
Thaddeus Young, PF
Chicago Bulls
$12.9MM cap hit; $13.5MM guaranteed salary in 2020/21; $14.2MM non-guaranteed salary in 2021/22

It was nearly a month ago that reports surfaced suggesting Young was dissatisfied with his role in Chicago and had privately spoken to the Bulls his desire for increased playing time. At the time, Young was averaging just 21.6 minutes per game, his lowest mark since he was a rookie in 2007/08.
Since then, Young's minutes have increased — but only to 23.3 MPG, and that average is buoyed by his 29.8 MPG in the club's last three games, which can be attributed partly to Wendell Carter's recent ankle injury.
To be fair, it's hard to blame the Bulls for dialing back Young's role. His effectiveness has dropped off this season, as his .401 FG% is easily a career low. Still, the veteran forward is only 31 years old, so I don't know that his struggles are simply the result of him being past his prime. He and the Bulls just haven't been a good fit so far, and a change of scenery may be in both sides' best interests.
Young's contract, which includes a guaranteed $13.5MM cap hit for next season, will probably limit his appeal, but he has reportedly drawn some interest, including from the Clippers. If Chicago can extract even a second-round pick without taking back bad money, it might make sense to pull the trigger.
Myles Turner, C
Indiana Pacers
$18MM cap hit; $18MM guaranteed salaries every season through 2022/23

NBA experts and teams around the league view Turner as a trade candidate. For now though, most importantly, the Pacers don't. Indiana has insisted for the last couple years that it's happy moving forward with its duo of Turner and Domantas Sabonis, and a report from earlier today indicated the team continues to rebuff inquiries on Turner.
Turner remains an intriguing speculative trade candidate for a couple reasons. For one, it's hard to imagine the Pacers as a legit title contender with those two centers playing alongside each other. The Raptors won a championship last spring with Marc Gasol and Serge Ibaka, but those two vets rarely played together, and Ibaka had to accept a reduced role coming off the bench.
Secondly, Turner's ability to make three-pointers on offense and block shots on defense makes him the sort of player that teams with frontcourt holes all over the league would love to acquire. He's locked into a reasonable long-term contract and it's fair to assume the Pacers could get a strong return if they make him available.
The Pacers' ideal target in a Turner trade would probably be a versatile, two-way forward who could guard top scorers like Kevin Durant and LeBron James while complementing Sabonis, Victor Oladipo, and Malcolm Brogdon on offense. The problem? There just aren't many players out there who fit that bill and would actually be available. As such, I'd expect the Pacers to stick to their guns on Turner and only eventually entertain the idea of a trade if they have another disappointing first-round exit this spring.
Revisit the rest of our 2019/20 Trade Candidate series right here.
Photo courtesy of USA Today Sports Images.