Losing Jonathan Isaac to a torn ACL during last summer's restart at Walt Disney World set the Magic back in a major way for the 2020/21 season, but the team still entered the year hoping to make the postseason for a third straight time. That wasn't in the cards, however, as another ACL tear – this time for Markelle Fultz – and a handful of lesser injuries set Orlando back even further.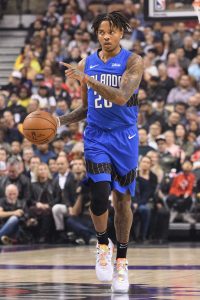 After a solid 6-2 start, the Magic cratered, falling to 13-27 by mid-March. That was around the time that top basketball executives Jeff Weltman and John Hammond decided a full-fledged teardown was in the franchise's best long-term interests.
Nikola Vucevic? Gone. Aaron Gordon? Gone. Evan Fournier? Also gone. By the time the dust settled, the Magic were left with a few extra future first-round picks and an intriguing group of young players, with Isaac, Fultz, Cole Anthony, Chuma Okeke, and Mohamed Bamba joined by Wendell Carter and R.J. Hampton.
After the last retooling of the roster culminated in nothing more than a middle-of-the-pack squad, Magic fans may feel a bit discouraged to see their team start building from the ground up again. But Weltman, the team's president of basketball operations, is optimistic about the outlook in Orlando. He told reporters last month that, since joining the organization, he's never felt more excited about its future than he does right now.
---
The Magic's Offseason Plan:
The Magic's previous rebuild stalled out in part because the club either whiffed on some top picks (like Mario Hezonja) or failed to properly develop them and ultimately sold low (like Victor Oladipo).
No team has better odds than Orlando to land a top-four pick in this year's draft, so the club is in a great position to secure a long-term cornerstone piece, and it's important to get that pick right. If the Magic receive the Bulls' top-four protected pick this year (it has better than 70% odds to land at No. 8 or No. 9), nailing that second lottery selection would a big step forward for the rebuild as well.
Otherwise, the Magic's offseason could look a lot like that of the Rockets and Pistons — like those teams, Orlando doesn't have much cap flexibility yet and shouldn't be a major player in free agency, but could be more active on the trade market.
Gary Harris' $20MM expiring contract isn't necessarily a net positive, but Harris remains a useful role player and that cap number isn't too onerous to move — the Magic could probably get a modest asset in exchange for him if they're willing to take on multiyear money in return.
Terrence Ross, who has two years and $23MM left on his deal, is the more attractive trade chip, since there will be no shortage of teams looking to add outside shooting at a reasonable price. While his dip in three-point percentage in 2020/21 (33.7%) may hurt his value, getting a first-round pick in a deal for Ross isn't entirely out of the question, especially if Orlando takes an unwanted contract back for him.
Michael Carter-Williams, on an expiring $3.3MM contract, could be a trade chip as well, though the Magic might want to keep him around as a veteran mentor for Fultz.
It's also worth noting that Carter and Bamba will be eligible for rookie scale extensions this offseason. I could see the Magic trying to work something out with Carter, like they did a year ago with Isaac and Fultz, but Bamba will probably have to show more next season to earn a second contract from the team.
---
Salary Cap Situation
Note: Our salary cap projections are based on a presumed 3% increase, which would result in a $112.4MM cap for 2021/22.
Guaranteed Salary
Gary Harris ($20,482,143)
Jonathan Isaac ($17,400,000)
Markelle Fultz ($16,500,000)
Terrence Ross ($12,500,000)
Mohamed Bamba ($7,568,743)
Wendell Carter ($6,920,027)
Cole Anthony ($3,449,400)
Michael Carter-Williams ($3,300,000)
Chuma Okeke ($3,277,080)
R.J. Hampton ($2,303,040)
Total: $93,700,433

Player Options
Team Options
Non-Guaranteed Salary
Restricted Free Agents
Two-Way Free Agents
Draft Picks
No. 5 overall pick ($6,593,040)
No. 8 overall pick ($5,007,840)
No. 33 overall pick (no cap hold)
Total: $11,600,880
Extension-Eligible Players
Mohamed Bamba (rookie scale)
Wendell Carter (rookie scale)
Gary Harris (veteran)
Terrence Ross (veteran)
Unrestricted Free Agents / Other Cap Holds
Otto Porter ($33,724,260): Bird rights 3
James Ennis ($4,290,000): Early Bird rights
Moritz Wagner ($1,669,178): Non-Bird rights
Arron Afflalo ($1,669,178): Non-Bird rights 4
Marreese Speights ($1,669,178): Non-Bird rights 4
Total: $43,021,794

Offseason Cap Outlook

Although the Magic only have about $94MM in guaranteed salaries on their books for the time being and aren't assured of bringing back any of their free agents, various cap holds and exceptions will likely push them over the cap.
The team's two top-eight draft picks, for instance, have a combined cap hold of over $11.5MM. The team also had a trade exception worth $17MM+ that it won't forfeit just to claim a small piece of cap space.
Cap Exceptions Available
Mid-level exception: $9,536,000 5
Bi-annual exception: $3,732,000 5
Trade exception: $17,150,000
Trade exception: $4,272,060
Trade exception: $2,000,000
Footnotes
Bacon's salary becomes fully guaranteed after August 9.
Because he'll have four years of NBA service, Randle is ineligible to sign another two-way contract.
This is a projected value. Porter's cap hit will be the maximum salary for a player with 7-9 years of NBA service.
The cap holds for Afflalo and Speights remain on the Magic's books from a prior season because they haven't been renounced. They can't be used in a sign-and-trade deal.
These are projected values.
Salary and cap information from Basketball Insiders and RealGM was used in the creation of this post.