The Mavericks have converted the Exhibit 10 contracts of Dexter Dennis and Greg Brown into two-way deals, the team announced (via Twitter). ESPN's Adrian Wojnarowski first reported that Dennis was being converted (Twitter link).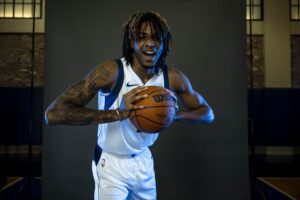 Dallas had a pair of two-way openings, so no corresponding moves are necessary to promote Dennis and Brown. A.J. Lawson occupies the team's third two-way spot.
Dennis, 24, went undrafted in June. He spent his first four college seasons at Wichita State before joining Texas A&M for the 2022/23 season. As a "super-senior" taking advantage of the extra year of eligibility afforded to college players due to COVID-19, he averaged 9.5 points and 5.7 rebounds in 28.7 minutes per game across 34 appearances.
Dennis never averaged double-digit points per game in any of his five college seasons and made just 37.5% of his shots from the field over the last two years, including 30.4% of his three-pointers. However, he's a talented defender who earned AAC Defensive Player of the Year honors in 2022 for the Shockers.
The 43rd overall pick in the 2021 draft, Brown spent his first season-and-a-half as a pro in Portland, appearing in 64 games for the Trail Blazers during that time. He didn't establish himself as a regular rotation player, averaging just 4.0 points and 2.4 rebounds in 11.5 minutes per night with a shooting line of .422/.294/.636.
Because the Blazers didn't have a G League affiliate of their own during Brown's time with the team, they couldn't send him to their own NBAGL program for developmental purposes. The 21-year-old ended up being waived in February to accommodate Portland's trade deadline moves, then finished the season with the Ontario Clippers in the G League.
The Mavs still have 18 players on their roster, with 14 players on guaranteed standard deals and Markieff Morris on a partially guaranteed contract.