In case you missed any of this week's biggest NBA stories, we've got you covered with our Week in Review. Listed below are some of the most noteworthy stories from the last seven days.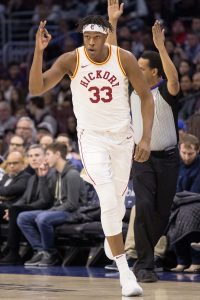 The Pacers and center Myles Turner reached an agreement on a rookie scale contract extension worth $72MM over four seasons, with the deal potentially being worth up to $80MM with incentives. The contract will have flat cap hits of $18MM across four years, starting in 2019/20, and the deal has no team or player options. Turner, 22, averaged 12.7 PPG, 6.4 RPG, and 1.8 BPG in 65 games last season.
The Cavaliers and Larry Nance Jr. also agreed to a rookie scale contract extension, worth $44.8MM over four years. The contract will have annual declining values, with year one (2019/20) paying Nance $12.7MM and year four (2022/23) paying him only $9.6MM. Nance, 25, established new career highs last season, averaging 8.7 PPG and 6.8 RPG.
Justise Winslow signed a rookie scale contract extension as well, agreeing with the Heat on a three-year, $39MM extension, with the third-year including a team option. Winslow, the 10th overall pick in the 2015 draft, showed some improvement last season after starting his career relatively slow. He averaged 7.8 PPG, 5.4 RPG, and 2.2 APG in 68 games last season.
The Clippers and Pelicans reached a trade agreement that sent Alexis Ajinca to Los Angeles and Wesley Johnson to New Orleans. The trade saves the Clippers about $840K in salary, the difference in the two players' salaries. Ajinca, as well as 2017 second-round pick Jawun Evans, have since been waived. The Pelicans, meanwhile, hope to get something out of Johnson, who adds veteran depth at a position of need without sacrificing future cap flexibility.
The Wizards traded guard Jodie Meeks, who is currently serving a suspension, cash, and a second-round pick to the Bucks. The Bucks plan to waive Meeks, but have not yet done so. The cash received by Milwaukee will help cover Meeks' 2018/19 salary, so the Bucks basically earned a second-round pick for paying the remainder of Meeks' salary. For the Wizards, the move is to simply reduce their luxury tax bill. They received a heavily-protected second-rounder from the Bucks to complete the deal.
Here are 10 more notable NBA headlines from the last week: