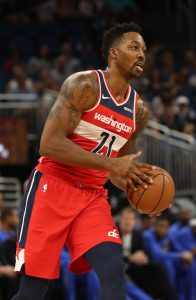 If you missed any of this past week's biggest headlines from around the NBA, we've got you covered with our Week in Review. Here are some of the most noteworthy stories from the last seven days:
Dwight Howard completed an unlikely return to the Lakers this week, reaching an agreement to sign with L.A. once he clears waivers. He consented to a buyout deal with the Grizzlies and was waived this morning. Howard had a messy parting with the franchise when he left as a free agent in 2013, but an ACL injury to DeMarcus Cousins last week created an opening for him to return.
The final roster decision for the U.S. World Cup team was simplified when a sore left ankle took Kyle Kuzma out of the running. Team USA suffered its first international loss in 13 years earlier today when Australia pulled off a 98-94 victory in an exhibition game.
The NBA and the Kings concluded their investigation into a sexual assault lawsuit filed against Sacramento coach Luke Walton. The league ruled that there isn't enough evidence to take disciplinary action against Walton. His accuser, Kelli Tennant, refused to participate in the investigation.
The Hawks promoted Travis Schlenk to president of basketball operations and gave him a multi-year contract extension. Schlenk has put together one of the league's most impressive collections of young talent since joining the organization in 2017.
Tyronn Lue reached an agreement to become part of Doc Rivers' staff with the Clippers. Lue, who was considered the favorite to become the Lakers' next head coach earlier this summer, compiled a 128-83 record in Cleveland.
Here are 10 more noteworthy headlines from the past week:
Photo courtesy of USA Sports Images.