If you missed any of this past week's biggest headlines from around the NBA, we've got you covered with our Week in Review. Here are some of the most noteworthy stories from the last seven days:
After an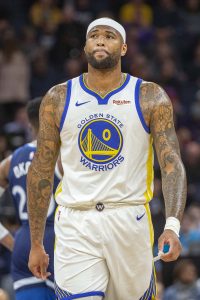 ex-girlfriend/mother of DeMarcus Cousins' child accused the injured Lakers' center of threatening her life, an arrest warrant was issued for the 29-year-old former All-NBA performer. Cousins, who allegedly made the threat after the woman refused to allow the former couple's seven-year-old son to attend Cousins' wedding, is accused of telling Christy West that he would "put a bullet through [her] f—ing head." Both the Lakers and the NBA are currently performing investigations of the matter.
Nets swingman Caris LeVert signed a rookie scale extension worth $52.5MM over three years. The deal, which will go into effect during the 2020/21 season, will pay the 25-year-old LeVert $16.2MM, $17.5MM, and $18.8MM through the 2022/23 season. The deal will essentially use up all of Brooklyn's cap space for next summer, but with an expected weak free agent class of 2020, that shouldn't be an issue for a team that just signed Kevin Durant, Kyrie Irving, and DeAndre Jordan this summer.
The Rockets and shooting guard Eric Gordon have reached an agreement on a four-year contract extension worth $75.6MM. The deal, which will go into effect during the 2020/21 season, will pay the 30-year-old Gordon $16.9MM, $18.2MM, $19.6MM, and $20.9MM through the 2023/24 season. Gordon's 2023/24 salary is non-guaranteed, becoming fully guaranteed if the Rockets win a championship or Gordon is named an All-Star. As a result of the deal, Gordon can't be traded during the 2019/20 season.
Nets forward Wilson Chandler has been hit with a 25-game suspension after testing positive for Ipamorelin, a banned performance-enhancing drug. Wilson released a statement accepting responsibility, claiming that he was prescribed the drug during an injury rehabilitation process and that at the time, he was not aware that it was a banned substance. The suspension will cost Chandler nearly $600K in salary.
Pelicans forward Darius Miller underwent surgery earlier this week to repair a ruptured right Achilles tendon. No recovery timetable was provided by New Orleans, but it's certainly possible that the 29-year-old veteran will miss the entire 2019/20 campaign. The earliest conceivable return date is probably late March to early April 2020.
Here are 10 more noteworthy headlines from the past week:
Photo courtesy of USA Sports Images.