The NBA's annual deadline for rookie scale contract extensions passed on Monday, with a flurry of deals completed just before time ran out. In total, nine players eligible for rookie scale extensions signed new contracts, which represented a significant increase over the last two years and put 2019 more in line with some earlier extension periods.
From 2012 to 2016, for instance, a total of 38 players signed rookie scale extensions before the October deadline, an average of nearly eight per year. By comparison, only four players signed early deals in 2017 and five did so in 2018. This year was the first time since 2014 that as many as nine rookie scale extensions had been signed in a single year.
Here's a breakdown of the nine rookie scale extensions signed before this year's deadline, sorted by total value. In cases where we haven't yet seen the official contract terms for the extension, we're basing our figures on the latest reports. These deals will go into effect beginning in 2020/21:
There are a couple factors that could go a long way toward explaining the jump in rookie scale extensions in 2019.
One of those factors, as John Hollinger of The Athletic explains, is a weak 2020 free agent class. This seems counter-intuitive, since not signing a rookie scale extension now would have positioned some of the players listed above to be among the very best players in next year's class. There's just one problem with that plan though — hardly any teams will have the cap room available to bid on them.
As ESPN's Bobby Marks observed over the weekend (via Twitter), there are only four teams that currently project to have the cap room necessary to sign a restricted free agent to a big offer sheet next summer. Those four clubs are the Hawks, Hornets, Cavaliers, Grizzlies, all of whom are expected to be among the league's worst teams in 2019/20.
If a few players who signed extensions had waited for next summer, it's possible they could have secured a more lucrative offer sheet from one of those teams. But there wouldn't have been enough money to go around for all of them to land big paydays, especially if some of those rebuilding clubs use cap room to take on contracts in trades. Plus, even if those teams retained their cap room, there's no guarantee they'd even appeal to 2020's potential RFAs.
The second factor for the rookie scale extension rush is related to China. Multiple reporters, including Sam Amick of The Athletic (Twitter link), have pointed out that players and agents are a little concerned about how the NBA's ongoing standoff with its Chinese partners will impact the salary cap in 2020 and beyond.
Before the NBA's issues in China began, the league projected a $116MM cap for 2020/21. If that number dips before next June, it would further limit teams' abilities to spend. Additionally, the difference between, say, Jaylen Brown's new $103MM+ extension with the Celtics and a maximum-salary offer sheet in free agency wouldn't be in substantial as current projections suggest.
While nine players signed rookie scale extensions, that leaves 11 players who were eligible for a new deal and didn't get one. Here's the list of those players, who are now eligible to become restricted free agents during the 2020 offseason, assuming they finish their current contracts: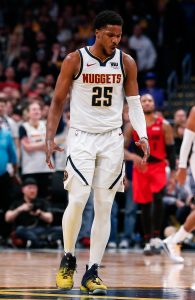 Photos courtesy of USA Today Sports Images.