For Enes Kanter, joining the Trail Blazers as a free agent signified his willingness to sacrifice for a winning team. He began the 2018/19 season with the Knicks, but his minutes started to decline when the franchise committed to developing its younger players with an eye toward June's draft.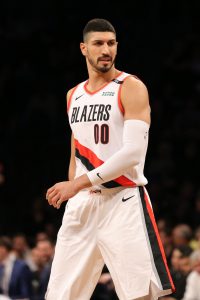 Kanter's stint in New York ended early, culminating in a final meeting between him, head coach David Fizdale, president of basketball operations Steve Mills, and general manager Scott Perry on the afternoon of February 7. Unable to find a trade, the Knicks wished him well, mutually agreeing on a release that would allow Kanter to select a new home from a list of interested playoff contenders.
"My dream from day one has always been the playoffs," Kanter told Hoops Rumors this week.
Kanter would ultimately choose to sign with the Blazers in free agency. The team is 8-3 since acquiring the 26-year-old, who holds career averages of 11.8 PPG and 7.6 RPG in eight total seasons with Utah, Oklahoma City, New York, and now Portland.
Kanter spoke with Hoops Rumors to discuss why he chose the Blazers, his new role under coach Terry Stotts, a potential future in the WWE, and more:
Growing up as a kid, is being a basketball player something you've always wanted to be?
"Oh yeah, of course. It was definitely a dream come true. I was actually growing up playing soccer a lot, and later I learned I wasn't really talented there — so I switched sports and went to basketball. I started playing basketball with my first club team at 13 or 14 years old, and I've been playing ever since."
Were there any players in the sport that inspired you along the way? 
"When I was growing up, I was always looking at Hakeem Olajuwon. That was just the one guy I was looking up to. I'd say his game is probably the one I always looked up to."
So this new deal with the Blazers is just a rest-of-season contract, right?
"Yes, that's correct."
Aside from the Blazers, I heard the Celtics and Lakers expressed a lot of interest in signing you as a free agent. Were there any other teams outside of Portland you were considering?