If you missed any of this past week's biggest headlines from around the NBA, we've got you covered with our Week in Review. Here are some of the most noteworthy stories from the last seven days:
The Pelicans have reached an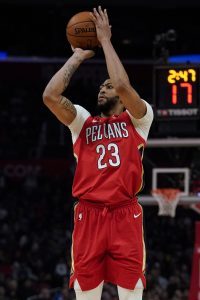 agreement to trade superstar big man Anthony Davis to the Lakers in exchange for guards Lonzo Ball and Josh Hart, forward Brandon Ingram and three first-round picks, including the No. 4 overall pick in this year's draft. As indicated below, the Pelicans then flipped the No. 4 overall pick to the Hawks for three additional top-35 picks and the removal of Solomon Hill's expiring contract from their books. The remaining two first-rounders include a 9-30 protected first-rounder in 2021, which becomes unprotected in 2022, and an unprotected first-rounder in 2024. Additionally, New Orleans will have the right to swap unprotected first-rounders in 2023 and the option to defer the 2024 pick until 2025. While this is quite an awfully large haul for the Lakers to give up, they immediately become championship contenders with Davis joining forces with LeBron James. While waiting to consummate the trade until July 30 would best suit the Lakers' free agent capability, it appears as though the trade will become official on July 6, immediately after the July moratorium.
The Grizzlies and Jazz reached an agreement on a trade that will send standout point guard Mike Conley to Utah in exchange for Jae Crowder, Kyle Korver, Grayson Allen, the No. 23 pick in this year's draft (which Memphis used to move up and select Gonzaga's Brandon Clarke at No. 21), and the Jazz' 2020 first-round pick. The 2020 first-rounder is protected for picks 1-7 and 15-30 in both 2020 and 2021, with lessened protections through 2024. The deal will be completed once the new league year begins in July, with Utah using cap room to absorb Conley's $32.5MM salary. The Grizzlies are in position to create a massive $25MM traded player exception in the deal.
The relationship between Rockets guards James Harden and Chris Paul has been described by sources as "unsalvageable," with neither future hall-of-famer interested in playing with the other any longer. General manager Daryl Morey has denied that Paul has requested a trade, but a plethora of reporting suggests that his may just be semantics, and that while Paul hasn't technically requested a trade, he's made it known he wants out. Apparently, the two stars not only dislike, but also have little respect for one another, which would seem to make it awfully difficult for the two to coexist moving forward.
As was widely expected, Zion Williamson, Ja Morant, and R.J. Barrett went 1-2-3 to the Pelicans, Grizzlies, and Knicks, respectively, in the 2019 NBA Draft. The big surprise of the night was Oregon's Bol Bol, once reagrded as a top-5 prospect for his class, dropping all the way down to pick No. 44 in the second round.
As is customary on and around draft day every year, there were multiple trade agreements involving first round picks and/or current NBA players. Below are the most noteworthy of the bunch:
Here are 12 more noteworthy headlines from the past week: