If you missed any of this past week's biggest headlines from around the NBA, we've got you covered with our Week in Review. Here are some of the most noteworthy stories from the last seven days: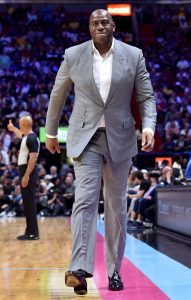 Magic Johnson abruptly announced that he was stepping down as the Lakers' president of basketball operations. The Tuesday announcement was one of the most surprising developments of the year, particularly since Johnson hadn't informed owner Jeanie Buss – or anyone else – of his decision before he announced it to the press.
The Lakers announced that they'd "mutually" agreed to part ways with head coach Luke Walton. While Johnson's departure initially looked like it might give Walton unexpected life in Los Angeles, the team confirmed late in the week that it would be in the market for a new head coach. Tyronn Lue and Monty Williams are said to be frontrunners.
Future Hall-of-Famer Dirk Nowitzki announced his retirement. Unlike Dwyane Wade, who confirmed at the beginning of the season that this year would be his last, Nowitzki had been considering playing one more season. He ultimately decided to call it a career after an incredible 21 years with the Mavericks, which included 12 All-NBA nods and a championship in 2011.
The Grizzlies shook up their organization, firing head coach J.B. Bickerstaff and demoting GM Chris Wallace. The news broke just hours after Wallace had addressed the media in his end-of-season press conference, telling reporters that Bickerstaff would return and that he wasn't concerned about his job security.
The Kings fired head coach Dave Joerger shortly after signing GM Vlade Divac to an extension. Despite posting a 39-43 record, their best mark since 2006, the Kings decided Joerger wasn't the right man for the job, and have reached an agreement with Luke Walton to take over the position. Assistant GM Brandon Williams was also dismissed.
Here are 10 more headlines worth passing along in what was a busy week for the NBA:
Photo courtesy of USA Today Sports Images.