If you missed any of this past week's biggest headlines from around the NBA, we've got you covered with our Week in Review. Here are some of the most noteworthy stories from the last seven days: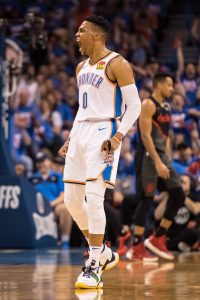 After Kawhi Leonard committed to the Clippers, they acquired Paul George from the Thunder for  Shai Gilgeous-Alexander, Danilo Gallinari and future first-round picks. The Thunder received five first-round picks plus the right to swap two others as the Clippers fulfilled Leonard's desire to team up with Most Valuable Player finalist George. The Clippers became instant contenders for next season's title despite giving up their promising young point guard and another starter in the deal.
In a blockbuster swap involving two of the NBA's biggest names, the Thunder traded Russell Westbrook to the Rockets for Chris Paul along with two future first-rounders and two pick swaps. Once George's request to be traded to the Clippers was fulfilled, there was no reason for the Thunder to retain Westbrook during a full rebuild. The Rockets are hoping that Westbrook is the final piece to a championship puzzle. It's likely that Paul will never play for the Thunder. He'll either be traded again or work out a buyout agreement and become a free agent.
The Knicks reached a one-year agreement with free agent forward Marcus Morris after Morris backed out on a verbal agreement with the Spurs. The former Celtic decided to test the free agent market again next summer instead of signing a two-year deal with the Spurs. San Antonio shifted gears and signed a younger forward, Trey Lyles. New York had the flexibility to add Morris after renegotiating its deal with Reggie Bullock due to health concerns.
The NBA added in-game challenges by coaches and also made changes to the replay rules for next season. The rule will be implemented on a one-year, trial basis. Coaches will get one challenge per game, whether or not it's successful. Called fouls, goaltending, basket interference, and out-of-bounds plays are the only calls that can be challenged. Uncalled fouls can't be challenged. Coaches must have a timeout available to use a challenge, and must use that timeout immediately after the call they want to challenge.
Point guard Tyus Jones signed an offer sheet and the Timberwolves declined to match it. Jones, 23, averaged 6.9 PPG, 4.8 APG, and 1.2 SPG last year in 68 games (22.9 MPG) for Minnesota. He'll join a Grizzlies point guard rotation that will feature No. 2 overall pick Ja Morant, along with newly-acquired youngster De'Anthony Melton. Jones' three-year deal reportedly has a first-year base value of $8.4MM with $850K in likely bonuses. It has a descending structure but can be worth close to $27MM in total.
Here are 10 more noteworthy headlines from the past week:
Photo courtesy of USA Today Sports Images.