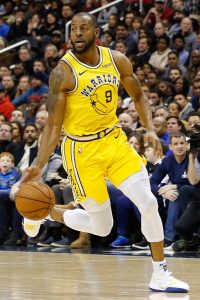 If you missed any of this past week's biggest headlines from around the NBA, we've got you covered with our Week in Review. Here are some of the most noteworthy stories from the last seven days:
The Grizzlies finally found a taker for Andre Iguodala as the NBA's trade deadline arrived this week. The veteran forward, who hasn't played since the Warriors sent him to Memphis over the summer in a cost-cutting move, was shipped to Miami for Justise Winslow, Dion Waiters and James Johnson, but not the first-round pick the Grizzlies had been insisting they wanted in return.
The Rockets, Timberwolves, Hawks and Nuggets put together this season's largest trade, with 12 players changing teams. The biggest names involved were Robert Covington, who went from Minnesota to Houston, and Clint Capela, whom the Rockets sent to Atlanta.
The Wolves added a player they've been chasing since the offseason by trading Andrew Wiggins to the Warriors for D'Angelo Russell. In addition to providing a long-term solution at point guard, Russell is a close friend of franchise cornerstone Karl-Anthony Towns, who expressed frustration this week with the team's frequent losing.
The Clippers added an important piece for the postseason by acquiring veteran forward Marcus Morris from the Knicks in a three-team deal. The Clippers outbid their cross-town rivals, as the Lakers refused to include Kyle Kuzma in their final offer.
The Cavaliers picked up Andre Drummond from the Pistons in exchange for a pair of expiring contracts and a second-round pick. Drummond has indicated that he will opt in to his $28.75MM salary for next season, giving Cleveland a potential All-Star in the middle.
Here are 10 more noteworthy headlines from around the basketball world this week: